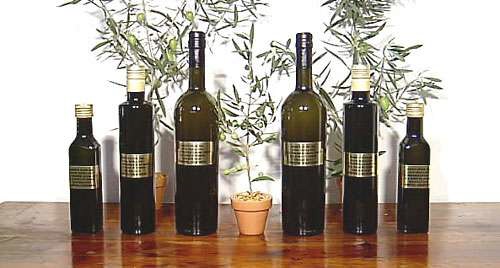 OUR FARM IS CERTIFIED ORGANIC
FINE EXTRA VIRGIN 100% CALIFORNIA OLIVE OILS
Our olives are ripened to perfection, hand picked and rushed to cold pressing. Naturally fertilized.
SEVILLANO - EXTRA VIRGIN
Our finest oil. A slightly grassy, buttery taste. A favorite with tasters. Very unique and pleasing to the palate. Excellent saute oil for meats, fish and vegetables. Wonderful for dipping. Great for any style of cooking, dipping, or salads. For baking try substituting half the butter with this oil.
250ML $17
375ML $24
500ML $28
750ML $39
MANZANILLO - EXTRA VIRGIN
Another favorite with tasters. Slightly peppery flavor. Great for any style of cooking, dipping, or salads. Mediterranean style olive oil.
250ML $13
500ML $23
750ML $27
MISSION FULL BODY - EXTRA VIRGIN
Great all purpose oil. Great light oil for saute, baking, cooking, salads and dipping.
250ML $12
500ML $22
750ML $26
MISSION WITH ROASTED GARLIC
The name says it all, toss the garlic press. Very popular flavored oil. Wonderful on salads with a little Lemon or Orange Oil and some Balsamic Vinegar. So quick and easy!
250ML $15
500ML $25
750ML $31
MISSION WITH LEMON OR ORANGE

Very fresh taste. Fresh lemons or oranges pressed with the olives at pressing time. Another very popular flavored oil. Great for sauteing fish, baked chicken, or salads.
250ML $15
500ML $25
750ML $31
BALSAMIC VINEGAR
Traditional dark balsamic vinegar. Sweet and delicious. Just mix with a little olive oil for the best salad dressing.
SHIPPING CHARGES
WE SHIP PRIORITY U.S. MAIL 2-3 DAY DELIVERY
SHIPPING CHARGES:

250ML $8.50 each
500ML $12.00 each
750ML $15.00 each
DISCOUNT FOR MULTIPLE BOTTLES TO ONE ADDRESS
Please see satisfaction guarantee.